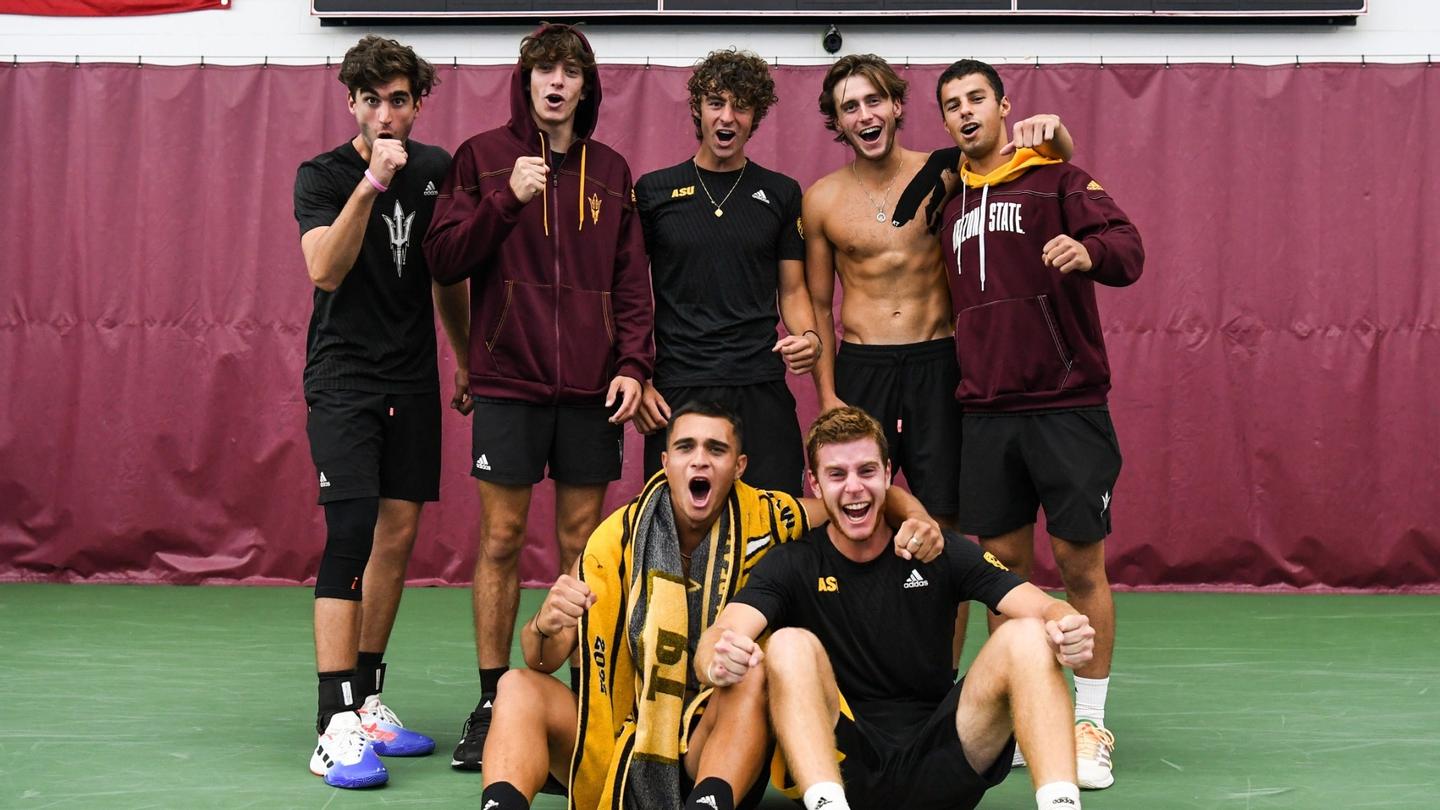 CAMBRIDGE, Mass. – Sun Devil Men's Tennis is still alive in the NCAA Tournament! No. 42 ASU defeated No. 24 Illinois 4-3 Friday morning in Cambridge, Massachusetts, thanks to a three-set thriller from freshman Roi Ginat at No. 5 that gave head coach Matt Hill his third NCAA Tournament victory since the program's reinstatement in 2016. The Sun Devils will play the winner of Harvard/Siena Saturday morning at 11:00 a.m. AZ, with coverage via Cracked Racquets on YouTube. Live stats are available here.
 
ASU vs Illinois Final Box
 
Sun Devil NCAA Tournament Wins Under Matt Hill
2023 4-3 over Illinois in Boston
2021 4-3 over Wichita State in Fort Worth
2019 4-0 over Miami in Fort Worth
Prior to that, last NCAA win was in 2004
 
How it Happened
ASU jumped out to an early 1-0 lead after clinching the doubles point thanks to a 6-0 sweep at No. 2 from Murphy Cassone/Max McKennon and a 7-5 win at No. 1 from Jacob Bullard/Constantinos Koshis.

Singles was a fight from start to finish. McKennon took a hard 6-0, 6-1 loss at No. 2 from Illinois' Hunter Heck, but ASU celebrated wins at No. 1 and No. 4 from Cassone (7-6, 6-4) and Bullard (7-6, 7-5). Additional Illinois wins at No.3 and No. 6 tied the match at 3-3.

All eyes were on Ginat and William Mroz at No. 5. Ginat took the first set 6-4 but dropped the second 2-6. The pair were neck-and-neck in the third, with the final frame tied at 3-3 at one point, but Ginat kept the pressure on and ultimately won 6-4 thanks to a long ball from Mroz.

Ginat's clinching victory was his first singles victory in four matches and snapped a three-match losing streak.
Click Here to Read the Full Original Article at Arizona State University Athletics…